Lyle D. Lieberman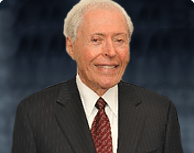 Lyle D. Lieberman, who is now retired, graduated from Northwestern University and received his Juris Doctorate degree from Northwestern University School of Law in 1956. He is a member of the Florida, Illinois, and District of Columbia Bars.
In 1956 and 1957 he was stationed at the Pentagon, Washington, D.C., as a member of the U.S. Navy. From 1958 through 1978, Mr. Lieberman conducted a trial practice, civil and criminal, in Miami, Florida. In 1978, he was appointed as an Administrative Law Judge with the Social Security Administration. In 1980 he returned to the private sector, limiting his practice to the field of social security law.
Mr. Lieberman is a present member of the Council of Past Presidents of the National Organization of Social Security Claimants' Representatives (NOSSCR), and is a frequent lecturer, locally and nationally, on all aspects of social security law.
He has been a featured speaker at more than 100 meetings including the National Multiple Sclerosis Society, National Arthritis Association, Lupus Foundation of Florida, Inc., Henderson Mental Health Center, Inc., American Association for Chronic Fatigue Syndrome, South Florida CFIDS Association, South County Mental Health Center, Senior Citizens' Legal Forum, National Association of Health Underwriters, South Dade Life Underwriters, Mental Health Association of Dade County, Inc., Lupus Foundation of Palm Beach County, Inc., Broward County Reflex Sympathetic Dystrophy Association, Post-Polio Syndrome Association of Greater Ft. Lauderdale, and the Dade-Broward Lupus Foundation of Florida, Inc.
Mr. Lieberman has lectured at numerous social security legal seminars, nationwide, including more than 25 occasions for the Florida Bar and the State Bar of Georgia. He has testified before the House Ways and Means Committee Social Security Subcommittee in 1984 and 2000. He also was invited to testify before the Presidential Commission on Pain in 1985.
Mr. Lieberman has been a member of the Editorial Advisory Committee for West/Thompson Social Security Reporting Service since its inception. In 2001, he was the only Social Security practitioner selected by the South Florida Legal Guide as one of the top 250 lawyers in South Florida.
In 2003, Mr. Lieberman was appointed by former HHS Secretary, Tommy G. Thompson, to serve a three-year term on the Chronic Fatigue Syndrome Advisory Committee (CFSAC).